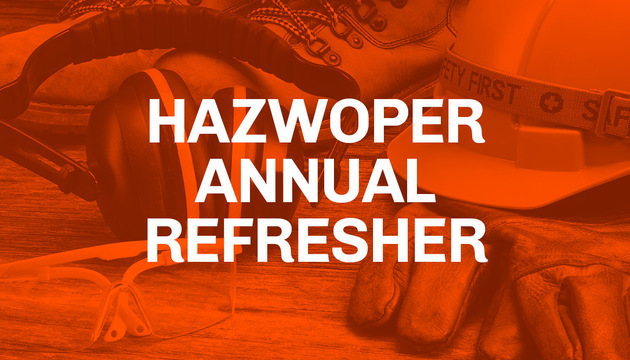 HAZWOPER 8 hr Annual Refresher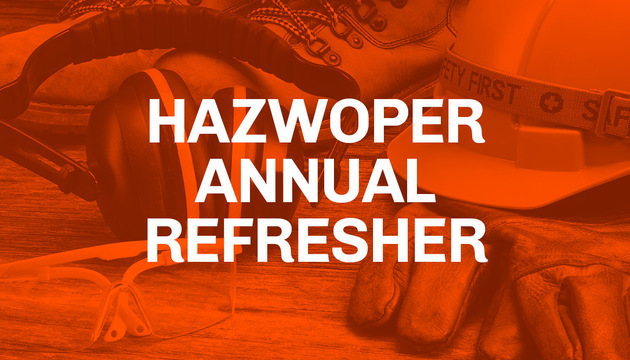 Description
This course meets the requirements outlined in OSHA 29 CFR 1910.120 for 8 (eight) hours of annual refresher training for workers at hazardous waste sites.
This course is designed for general site workers who remove hazardous waste or who are exposed or potentially exposed to hazardous substances or health hazards. The course is comprised of nine sections covering topics pertaining to workplace hazards associated with Hazardous Waste Operations and Emergency Response (HAZWOPER).
Topics Include
HAZWOPER regulations,
Site Characterization,
Toxicology,
Hazard Recognition,
Personal Protective Equipment,
Decontamination,
Medical Surveillance,
Confined Space Entry and Emergency Procedures.
Upon successful completion of the course you will receive a certificate of completion which is accepted by OSHA as documentation of training.
Course Objectives
At the completion of this course, you will be able to:
Recognize and recall OSHA regulations and requirements.
Demonstrate an understanding of Site Characterization.
Identify the principles of toxicology and how they relate to various types of chemical exposures.
Describe potentially hazardous situations involving corrosives, solvents, oxidizers, and reactive chemicals.
Identify chemicals and hazards they present in the workplace.
Identify components of OSHA's Hazard Communication Standard and steps of any Hazard Communication Program.
Identify radiation hazards and different types of radiation.
Identify different types of respiratory equipment.
Indicate Protection Factors.
Identify the uses for Personal Protective Equipment (PPE) and how to choose the correct PPE.
Recognize and indicate the characteristics of a work zone.
List the elements of site security.
Recognize the principles of decontamination methods as well as levels of decontamination.
Define a Medical Surveillance Program and its purpose.
Identify the types and methods of air monitoring.
Recall characteristics of the confined space permit system, such as main confined space atmospheric hazards and types of ventilation.
Describe the medical concerns associated with confined spaces.
Indicate the various considerations in an emergency situation and the importance of training and action for personal safety and the safety of others.
End of Course Instructions After successful completion of the course the certificate of completion will be available for download and print from the training homepage.
Quiz Information Each quiz must be passed with a minimum of 70% to proceed to the next lesson.
Exams The final exam must be passed successfully with 70% or higher in order to receive your certificate of completion.
Additional Information
What is HAZWOPER 8 Hour Training?
HAZWOPER 8 training is an 8-hour refresher program intended for workers and employees that require refreshing their existing 24-hour and 40-hour HAZWOPER certification. Training consists of 9 topics relating to workplace hazards. They include HAZWOPER regulations, site analysis, toxicology, threat recognition, personal protective equipment, decontamination, medical surveillance, confined space entry, and emergency procedures.
There's no room for guesswork when it comes to Hazardous Waste Operations and Emergency Response (HAZWOPER). That's why continuous training and certification are imperative for those who are exposed or potentially exposed to hazardous wastes and substances. To keep their 24-hour or 40-hour HAZWOPER certification, workers are required to take an 8-hour refresher course on an annual basis.
This web-based course from 360training.com meets the 8-hour annual refresher training requirements outlined in OSHA 29 CFR 1910.120. It is designed to review the principles that site workers learned from their 24-hour or 40-hour HAZWOPER training. Aside from HAZWOPER essentials, 360training.com also incorporated the latest updates of the Globally Harmonized System (GHS) for Hazard Communication in the training package.
Who Should Take this HAZWOPER 8-Hour Refresher Online Course?
360training.com interactive refresher course is for general site workers who must engage in hazardous waste operations or must enter a hazardous or potentially hazardous site:
Workers who are involved in the cleanup, treatment, storage, and disposal of hazardous wastes Workers who are exposed or potentially exposed to hazardous substances Workers who need to maintain a 24-hour or 40-hour HAZWOPER certification
Learners must have completed the 24-hour or 40-hour HAZWOPER course within the last 12 months as a course prerequisite.
Why Choose 360training.com?
HAZWOPER regulations can be confusing, but they don't have to be with our straightforward approach. At 360training.com, you're just a few clicks away from completing the 8-Hour HAZWOPER Refresher Training. Take the course at your convenience wherever, whenever as long as you have an internet connection. Brushing up on your HAZWOPER know-how has never been this convenient!
What Happens Next?
360training.com's online HAZWOPER refresher training is composed of 9 sections and takes at least 8 hours to complete. Learners must have a minimum score of 70% to pass the quizzes and the final exam. Eligible students will receive a certificate which is an OSHA-accepted documentation of training upon completion of the annual refresher course. Contact 360training.com or reach out to local regulatory authorities for more details about OSHA's 8 Hour refresher online training requirements.
Course Outline
Written Safety and Health Program
Site Characterization and Analysis Training Program
Medical Surveillance
Personal Protective Equipment (PPE)
Sanitation at Temporary Workplaces
Monitoring Handling Drums and Containers
Decontamination
Emergency Response Plan