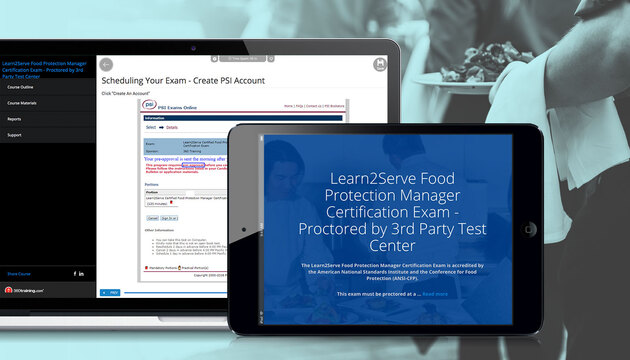 Learn2Serve Food Protection Manager Certification Exam - Proctored by 3rd Party Test Center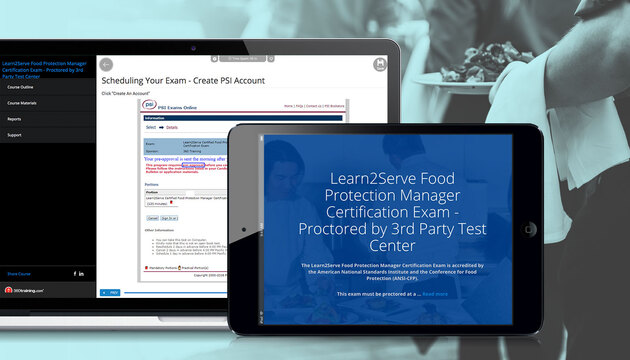 Description
The Learn2Serve Food Protection Manager Exam is designed to test and assess food managers on competencies relevant to food protection. The intent of this examination is to certify that each food manager has demonstrated by means of a food safety certification examination to a certifying organization that he or she has the knowledge, skills and abilities required to protect the public from food borne illness.
360training's Learn2Serve Food Protection Manager Certification is approved by the American National Standards Institute and the Conference for Food Protection (ANSI-CFP). With the exception of Connecticut and Philadelphia, PA, this accredited exam is accepted in all states/jurisdictions that have mandatory certification requirements for Food Management Professionals,
A 3rd party test center is a location outside of your company location. This will be proctored by an employee of the test center location. After your purchase is complete, please visit www.PSIExams.com to schedule your exam.
Exam The Learn2Serve Food Manager Certification Exam must be passed with a minimum score of 64%.
End of Course Instructions
Once you have successfully passed your Food Manager Certification Exam, you may download and print a Proof of Completion document for yourself, your employer, or your instructor. PLEASE NOTE: the Proof of Completion document is not your Official Certificate.
Your Official Certificate will be mailed within 15 business days of completing the exam. The Official Certificate will be sent to the name and address provided in the Personal Information section under the MY PROFILE tab in the LMS. Login to your LMS account to confirm that the Personal Information is accurate.
Please contact Customer Support at 855-796-3525 if you need help to: Make changes to mailing address AFTER exam completion to insure your Official Certificate is mailed to the correct address. If you should require a replacement certificate, you may order one for $15.00.