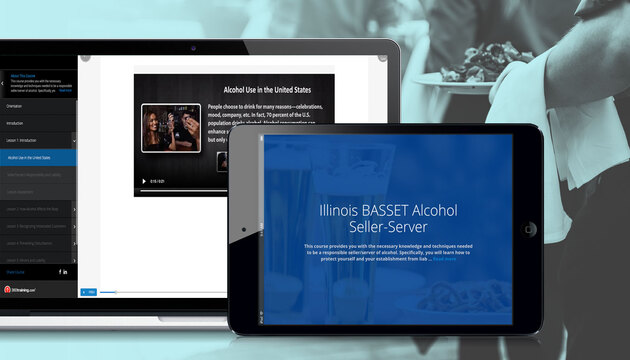 Illinois BASSET Alcohol Seller-Server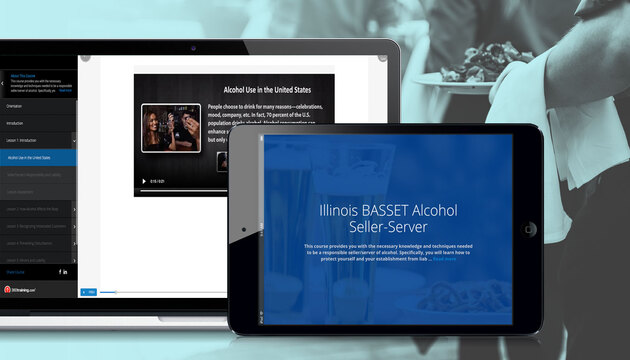 Description
This course provides you with the necessary knowledge and techniques needed to be a responsible seller/server of alcohol. Specifically, you will learn how to protect yourself and your establishment from liability; how alcohol affects your customers; how to recognize the effects of alcohol on your customers; how to prevent customers from becoming intoxicated; how to intervene when you need to refuse a sale to someone; how to prevent and deal with disturbances; how to accurately check IDs and recognize minors; how to prevent second-party sales and loitering; and how to refuse a sale.
Learning Objectives
After completing this course, the student will be able to:
Describe alcohol use.
Recognize the effects of alcohol.
Identify the seller/server's role in the enhancement of public safety.
Discuss the seller/server's responsibilities and obligations under the law.
Define blood alcohol concentration and how it is calculated.
Describe the effects of mixing alcohol with other drugs.
Recognize intoxicated individuals.
Refuse a sale to someone with little conflict.
Prevent disturbances in the establishment and handle difficult situations.
Check IDs accurately, and recognize clues for when an individual is using a fake ID.
Recognize second-party sales
Assessment Information
Each quiz must be passed with a 70 percent or higher before you can proceed to the next lesson.
The final must be passed with a 70 percent or higher
Course Outline
Lesson 1: Introduction
Lesson 2: How Alcohol Affects the Body
Lesson 3: Recognizing Intoxicated Customer
Lesson 4: Preventing Disturbances
Lesson 5: Minors and Liability
Lesson 6: How to Refuse a Sales
Lesson 7: State of Illinois Alcohol-Related Laws