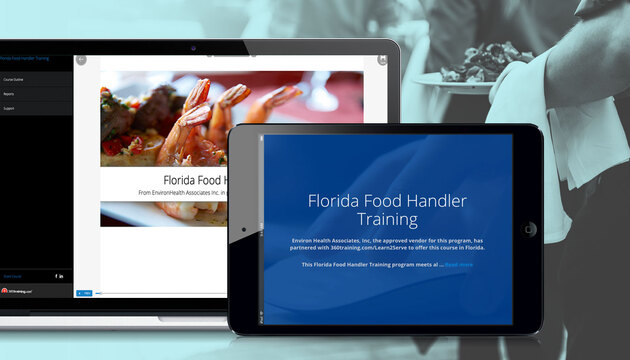 Florida Food Handler Training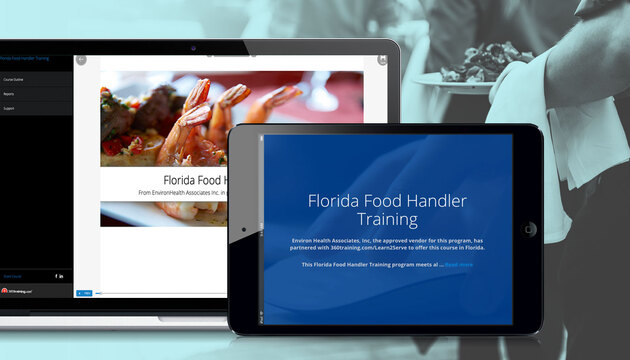 Description
This Florida Food Handler Training program meets all requirements of Chapter 509 of the Florida Administrative Code. This course covers food safety issues, regulations, and techniques so food workers can prevent foodborne illness.
Environ Health Associates, Inc, the approved vendor for this program, has partnered with 360training.com/Learn2Serve to offer this course in Florida.
Learning Objectives
After completing this course, you will be able to:
Define food safety and its goals, benefits, impact, proper adherence, critical control points, and recall requirements.
Recall biohazards, symptoms and causes of common foodborne illnesses, identify spoilage signs and causes.
Identify three types of contamination, explain how food becomes hazardous, and recognize how to preserve food.
Understand time, temperature, and control with relation to food handling and how to properly take the temperature of food and maintain the temperature while storing food.
Discuss personal hygiene importance and practices, and food handling practices and techniques.
Understand procedures for acquiring and receiving food, considerations for meat and poultry, and proper food storage.
Identify both proper and improper cleaning and sanitizing procedures and implications.
Identify signs and eradication procedures for pest infestation.
The certificate of completion will be available for download upon successful completion and passing of the final exam. You must score 70% or higher to pass.The certificate may be presented to any authorized agent of the state of Florida Division of Hotels and Restaurants who asks to see it. Additionally, we have notified the state by reporting to the state maintained database. If you are outside the state of Florida, the same requirements may be in force, check with your regulatory authority for specific requirements in your jurisdiction and remember to always pay attention to food safety.
Course Outline
Lesson 1: Introduction to Food Safety
Lesson 2: Biohazards, Foodborne Disease, and Food Spoilage
Lesson 3: Contamination
Lesson 4: Food and Temperature Control
Lesson 5: Preventing Food Contamination
Lesson 6: Food Receiving and Storage
Lesson 7: Sanitizing
Lesson 8: Pest Control