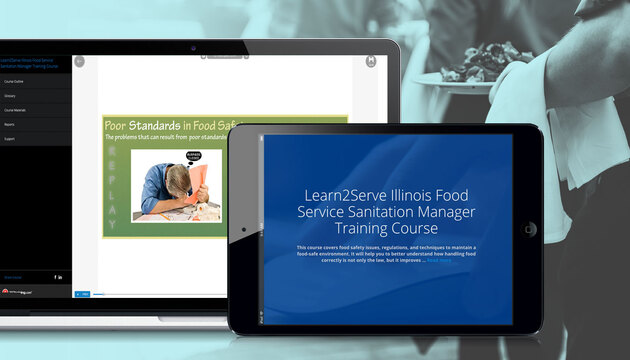 Illinois Learn2Serve Illinois Food Service Sanitation Manager Training Course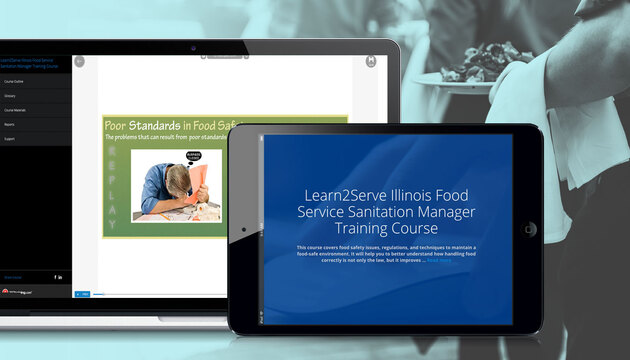 Description
This course covers food safety issues, regulations, and techniques to maintain a food-safe environment. It will help you to better understand how handling food correctly is not only the law, but it improves safety and lowers cost as well.
Learning Objectives
At the conclusion of this course, you should be able too:
Discuss food safety, its importance, and those who enforce it.
Identify foodborne illness and its causes.
Identify biological, physical, and chemical contamination.
Describe preservation and temperature control.
Discuss the importance of proper personal hygiene in the workplace.
Implement appropriate procedures to receive and store food.
Discuss cleaning, sanitization, pest control, and facility design.
Create and implement the HACCP system.
Quiz Information
Each quiz must be passed with a 70% or higher to proceed to the next lesson.
Exams
The final exam must be passed with a 70% or higher.
Course Outline
Lesson 1: Introduction to Food Safetey
Lesson 2: Biohazards, Foodborne Disease, and Food Spoilage
Lesson 3: Contaminants
Lesson 4: Food and Temperature Control
Lesson 5: Employee Health, Hygiene, and Training
Lesson 6: Purchasing, Receiving, and Storing Food
Lesson 7: Cleaning and Sanitizing
Lesson 8: Pest Control
Lesson 9: Facility Design
Lesson 10: HACCP System Basics
Lesson 11: FDA Guidelines for Developing a HACCP System
Lesson 12: Developing, Implementing, and Maintaining a HACCP Plan
Lesson 13: Seafood HACCP
Lesson 14: Consumer Steps to Safer Seafood