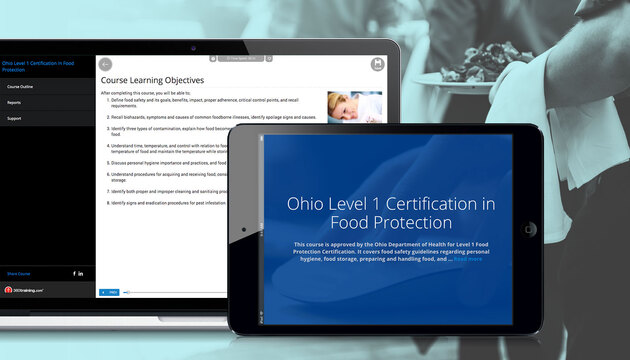 Ohio Level 1 Certification in Food Protection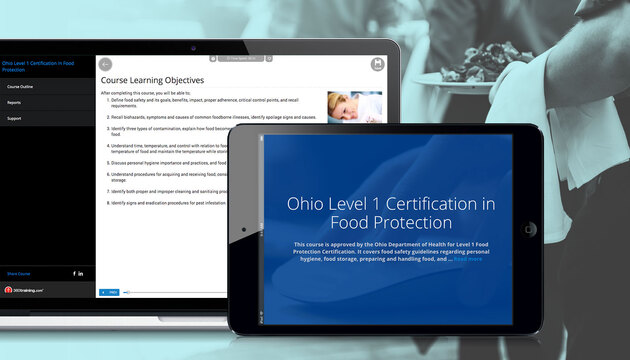 Description
This course is approved by the Ohio Department of Health for Level 1 Food Protection Certification. It covers food safety guidelines regarding personal hygiene, food storage, preparing and handling food, and maintaining a safe environment. The practices in this course can help you protect food quality and prevent foodborne illness.
Learning Objectives
After completing this course, you will be able to:
Define food safety and its goals, benefits, impact, proper adherence, critical control points, and recall requirements.
Recall biohazards, symptoms and causes of common foodborne illnesses, identify spoilage signs and causes.
Identify three types of contamination, explain how food becomes hazardous, and recognize how to preserve food.
Understand time, temperature, and control with relation to food handling and how to properly take the temperature of food and maintain the temperature while storing food.
Discuss personal hygiene importance and practices, and food handling practices and techniques.
Understand procedures for acquiring and receiving food, considerations for meat and poultry, and proper food storage.
Identify both proper and improper cleaning and sanitizing procedures and implications.
Identify signs and eradication procedures for pest infestation.
This course does not have a final exam.
Course Outline
Lesson 1: Introduction to Food Safety
Lesson 2: Biohazards, Foodborne Disease, and Food Spoilage
Lesson 3: Contamination
Lesson 4: Food and Temperature Control
Lesson 5: Preventing Food Contamination
Lesson 6: Food Receiving and Storage
Lesson 7: Sanitizing
Lesson 8: Pest Control