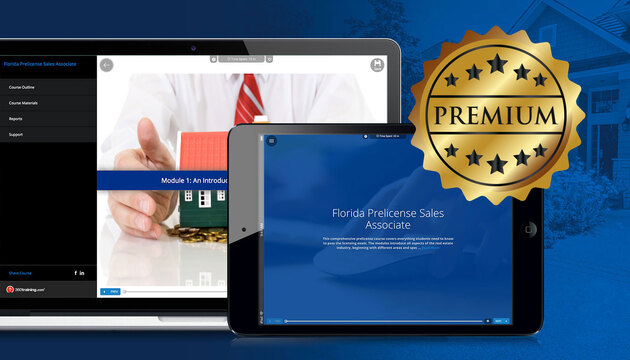 Florida 63 Hour Real Estate Pre-License Package (Premium)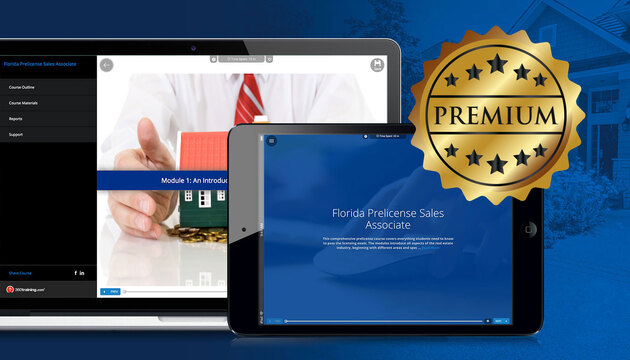 Description
This comprehensive pre-license course covers everything students need to know to pass the licensing exam. The modules introduce all aspects of the real estate industry, beginning with different areas and specialties, license law, and licensing requirements. We explore the common relationships and duties involved in providing real estate services, brokerage activities, and procedures. This course will also get into fair housing laws, property rights, title and deeds, and land descriptions. Next, it is on to the world of contracts: contract types, contract elements, contract performance, and termination. Residential mortgages are covered in depth as well as loan processing, servicing, and foreclosures. Students will learn all about closing, settlement, prorating, disclosures, and the major appraisal concepts and approaches. We wrap up with modules covering investments, taxes, and city planning and zoning.
An Exam Prep for Florida Real Estate License Candidates Based upon the Required PROMISSOR Exam. This exam prep is provided to those students who are preparing to take the state-mandated exam to become Real Estate Licensees in Florida. It is not an official or otherwise sanctioned testing mechanism, and is meant merely to provide a determination of your preparedness for taking the Proctored Exam given by PROMISSOR in Florida. This is the national portion of the exam. In order for this testing module to be truly effective, you should have completed the educational coursework. Like the official exam, all exams given through this program are timed. Unlike proctored exams, however, you may stop and resume an exam at your convenience. When you log in as a returning student to complete an exam, you will return to the question that you last completed. To log in as a returning student to complete an exam, you must remember your username and password.
Real estate mathematics can be very daunting and confusing. However, by beginning with a review of basic math skills and reinforcing what is already known, students will soon learn to apply real estate terminology and specific formulas to problems and tasks common in the real estate industry such as area and volume calculation, the Rectangular Survey System, the Metes and Bounds System, proration, commission rates, and property values. This course will help students develop the skills to complete a review of settlement costs and explain this information to clients.
Client Focused Communication teaches the student how and why we communicate. Learning these basics will provide the student the basis for effective client communication. Knowing what the client wants and being able to find the perfect property based on good communication skills will result in more sales and satisfied clients.
Course Outline
Florida Pre-License Sales Associate
Real Estate Math
Client Focused Communications
Florida Real Estate Salesman Exam Prep