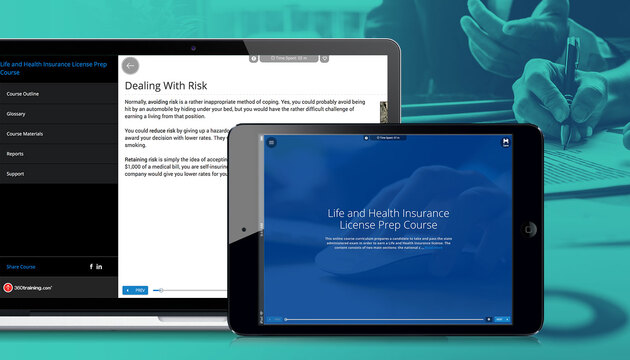 New Jersey Life and Health Insurance Pre-License Training Package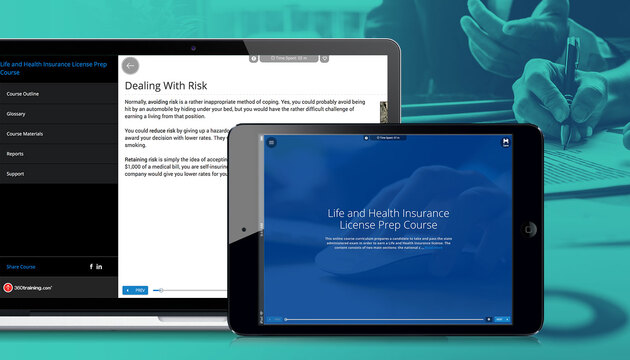 Description
At last! A Life and Health licensing curriculum presented in a plain-English, no-nonsense manner designed with one objective in mind, a passing score on the State Insurance Licensing Exam. This state-of-the-art learning resource introduces you to the required information in a logical, progressive sequence.
You begin with the definition of risk and are then guided step-by-step through the most intricate issues of Variable Universal Life and Equity Indexed Annuities.
You will enjoy the crisp, conversational style that practically eliminates the tedium of learning, and you will appreciate the use of important interactive strategies that help adults understand and remember.
What is Included?
Online Prep Course features:
The Online Prep Course will allow you to learn and remember the critical insurance vocabulary, concepts and products that will be tested on your State Licensing Exam. You'll find no fluff, no nice-to-know, no war stories just the essential information that you will need to obtain your license. This crucial knowledge is presented in easy to read, user-friendly language that is devoid of legal complexities and legislative mumbo-jumbo. We've even taken care to clearly define the insurance terms before we use them.
The instructional content is reinforced with:
- Interim quizzes in the format of your state exam so that you may monitor your progress easily
- Key Points summary at the end of each chapter that reduces the critical information to less than a page
- An extensive glossary/index that allows you to effortlessly define or locate that important term you simply cannot remember
- A rigorous final exam designed to tell you if you are adequately prepared for the State Exam.
- State Law material translated into plain English which simplifies the section of the test that causes 70% of the failures.
Course Outline
Your state insurance regulators built an Exam Content Outline which dictates the information which we must include in the Online Course and Resource Guide. Parts I through III of the Course and Resource Guide make up the 'national core' portion (useful in any state). Part IV is the State Law section of your course.
Part I: Introduction to Life & Health Insurance
Chapter 1 Purpose of Insurance Chapter 2 Contract Law Chapter 3 Underwriting and the Application
Part II: Life Insurance
Chapter 4 Traditional Life Policies Chapter 5 Flexible Feature Life Policies Chapter 6 Policy Provisions Chapter 7 Policy Options Chapter 8 Policy Riders Chapter 9 Annuities and Retirement Plans Chapter 10 Business and Group Life Chapter 11 Social Security
Part III: Accident and Health
Chapter 12 Health Foundations Chapter 13 Medical Expense Policies Chapter 14 Disability Income Policies Chapter 15 Uniform Individual Health Policy Provisions Chapter 16 Group Health Insurance Chapter 17 Medicare and Medicaid Chapter 18 Limited Health Insurance Policies
Part IV: State Insurance Laws
Chapter 19 General State Insurance Law Chapter 20 State Life Insurance Law Chapter 21 State Health Insurance Law