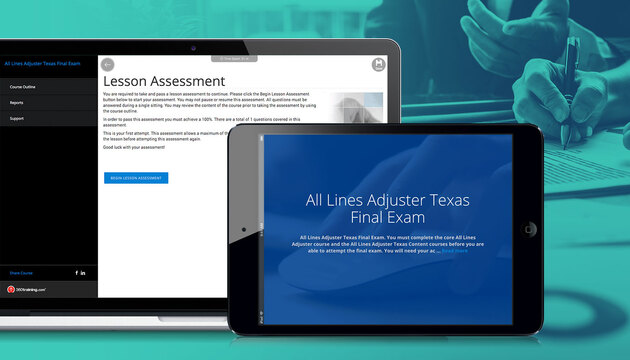 Texas All Lines Insurance Adjuster's Pre-Licensing Training Package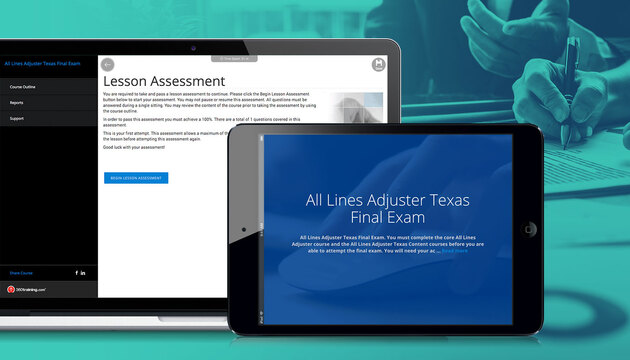 Description
You are about to earn one of the most respected insurance certifications in America - the All Lines Adjuster License. The 360training.com All Lines Adjuster course is a TDI approved Pre-License, Classroom Equivalent course. The All Lines license allows an adjuster to work claims in the following areas:
Residential – property used primarily for dwelling
Commercial – property used for business, recreation, worship
Auto – cars, motorcycles, and covered vehicles used for non-commercial transport
Farm & Ranch – dwelling, outbuildings, barns, animals, equipment, crops in storage
Inland Marine – commercial trucks in transit and their cargo; docks, piers, bridges
Ocean Marine – sea vessels and their cargo
Workers Comp – workers injured while on the job
This comprehensive course will prepare you for the final exam that will certify you as a knowledgeable, professional insurance adjuster in the state of Texas. The Texas All Lines Adjuster license will allow you to work in the state of Texas, as well as in multiple states offering reciprocity.
Earning the Texas Insurance Adjuster license requires attentive study, but this course will walk you through each step with clear explanations and application questions to evaluate and apply your growing knowledge.
Upon successful completion of the final exam, you will be ready to start the application process with TDI formally obtain your Texas All Lines Adjuster license